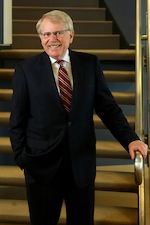 John W. Zeiger
Presiding Partner




"[T]he best there is in the city, and one of the best in the state. . . . He is very strategic and very tough – but he tempers this toughness with intellect."

[Top 100 Trial Lawyers in America; Benchmark Litigation 2015]
"[W]ell respected, intelligent, responsive, patient and well prepared. . . ." One of only eight "Band 1" General Commercial Litigators in Ohio."

[Chambers USA 2016]
"John Zeiger commands respect for his courtroom prowess, having attained a stellar reputation as one of the most formidable trial lawyers in the state."

[Chambers USA, 2018]
---
John is the Presiding Partner of Zeiger, Tigges & Little LLP. He has extensive trial experience in a broad range of complex litigation – primarily representing high net-worth individuals and families, corporations and their executives, and legal professionals. His practice focuses primarily on defense of major business and family disputes, corporate governance challenges, securities law claims, and legal professional liability litigation. He combines business understanding with extensive courtroom experience – a rare combination.
Professional Affiliations
1994 - Current: Zeiger, Tigges & Little LLP

Founding Partner of litigation boutique.
1980 - 1993: Jones, Day, Reavis & Pogue (Columbus Office)
Senior Litigation Partner in 60-lawyer Columbus office of international law firm.
Community and Professional Affiliations
Commissioner - Supreme Court of Ohio
Creed of Professionalism (1989 - 1990)
Client Security Fund of Ohio (1995 - 1997)
Committee on Bar Examination (1997 - 1998)
Trustee, Grant-Riverside Methodist Hospitals
(1998 - 2002) (Chairman 2001 - 2002)
Director, OhioHealth Corporation
(2002 - 2007) (Secretary and Member of the Executive Committee 2002 - 2007)
(Central Ohio's largest not-for-profit health care system)
Trustee, Methodist Theological School in Ohio
(1995 - 2013) (Finance Chair 1997 - 2003; Chair-Elect 2003-2004; Chairman of the Board 2004 - 2008)
Trustee, The Ohio State University
(2017 - Current) (Chairman, Audit and Compliance Committee 2018 -)
Trustee, The Wexner Medical Center, The Ohio State University
(2018 - Current)
Representative Experience
Coordinated fraud claims in British High Court against prominent London auction house which sold a multi-million dollar vintage Ferrari race car with known but undisclosed title disputes.


Trial counsel to NetJets, Inc. (a subsidiary of Berkshire Hathaway) in billion dollar federal excise tax dispute.


Lead counsel in Supreme Court appeal of judgment invalidating licensing of pay day lenders in Ohio and putting more than one billion dollars of loans at risk (prevailed 7-0).


Trial counsel to defendant trustee of billion dollar retail enterprises in litigation brought by beneficiaries seeking his removal and hundreds of millions of dollars of damages; trustee prevailed in all respects.


Litigation counsel to Columbus civic leaders in obtaining control of key downtown shopping mall property for redevelopment.


Trial counsel in challenge to Ohio General Assembly's diversion of $240 million of tobacco use prevention funding to other initiatives.


Trial counsel in $15 million indemnity claim on behalf of JPMorgan Chase arising out of class action settlement.


Defense counsel in preliminary injunction proceeding seeking to invalidate cartoon character licensing agreement in effort to thwart $85 million media company acquisition.


Trial counsel representing Columbus community leaders in dispute with Lamar Hunt over control of the Columbus Blue Jackets NHL franchise.


Trial counsel in property tax dispute as to valuation of Nationwide Arena.


Lead trial counsel for a major law firm in three class action securities lawsuits arising out of penny stock fraud and criminal proceedings.


Trial counsel in successful defense of a major tax fraud indictment, ultimately obtaining $800,000 tax refund for client.


Three-week pro bono death penalty murder trial representation.


Lead trial counsel of Federated Department Stores, Inc. in its successful $6 billion bankruptcy reorganization.


Trial counsel in Marathon Oil's successful defense of Mobil Oil Corporation's challenge to $6 billion white knight agreement with U.S. Steel.


Lead trial counsel in $1 billion real estate bankruptcy of Cardinal Industries, Inc., including prosecution of defendant class action involving 250 banks having $1 billion in loans.
Awards and Recognitions
Chambers USA Leading Business Lawyer – Business Litigation (annually since publication commenced)
Best Lawyers in America 1982 - 2017
Recognized as one of The Top 100 Super Lawyers in Ohio (2004-2012 and 2014-2018)
Recognized in the National Law Journal as one of the top ten litigators in Ohio (March 2000)
Education
J.D., The Ohio State University Moritz College of Law, 1972
Summa Cum Laude
The Order of the Coif
B.S.B.A., The Ohio State University, 1969
Cum Laude
Bar Admissions
Supreme Court of Ohio
United States Supreme Court
United States Sixth Circuit Court of Appeals
United States District Courts, Northern and Southern Districts of Ohio