Representative Clients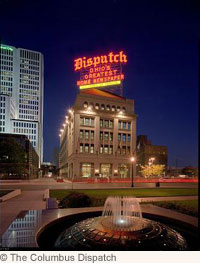 CareWorks of Ohio Ltd. – An Ohio BWC-certified Managed Care Organization through Ohio's Health Partnership Program. CareWorks medically manages nearly 30% of all new workers' compensation claims filed in Ohio.
Columbus Downtown Development Corporation – Created in 2002, CDDC is a private, non-profit development organization that is committed to redeveloping and revitalizing downtown Columbus, Ohio. CDDC is led by a Board of Directors comprised of local business and institutional leaders.
The Columbus Partnership – Founded in 2002, the Columbus Partnership is a non-profit organization consisting of more than 50 CEOs from Columbus' leading businesses and institutions. Its primary purpose is to be a thought leader – to strategically consider how to best position Columbus economically for the future. The Partnership is also actively engaged in civic projects related to downtown development, education, leadership development, philanthropy, and arts and culture.
The Dispatch Printing Company – Owner of WTHR Indianapolis (NBC affiliate) and WBNS-TV (Channel 10), WBNS-AM (1460), and WBNS-FM (97.1) in Columbus as well as extensive real estate holdings.
Fifth Third Bank - Fifth Third Bancorp is a diversified financial services company headquartered in Cincinnati, Ohio. The Company has $100.7 billion in assets and operates 19 affiliates with 1,150 full-service Banking Centers. Fifth Third is among the largest money managers in the Midwest and it manages money for individuals, corporations and not-for-profit organizations. www.53.com
Installed Building Products, Inc. – Founded in 1977, Installed Building Products is the nation's second largest insulation installer for the residential new construction market and a leading installer of complementary building products.
JPMorgan Chase - JPMorgan Chase & Co. is a leading global financial services firm with assets of $1.4 trillion and operations in more than 50 countries. The firm is a leader in investment banking, financial services for consumers, small business and commercial banking, financial transaction processing, asset management, and private equity. Under its JPMorgan and Chase brands, the firm serves millions of consumers in the United States and many of the world's most prominent corporate, institutional and government clients. www.jpmorganchase.com
Limited Brands – Limited Brands has built a family of the world's best fashion brands. Limited Brands sells lingerie, personal care and beauty products, apparel and accessories through its Victoria's Secret, Pink, Bath & Body Works, C.O. Bigelow, La Senza, White Barn Candle Co. and Henri Bendel brands. The company's products are available in over 2,900 specialty stores nationwide, through the Victoria's Secret Catalogue and online. Limited Brands recorded sales of $10 billion in 2007 and employs more than 90,000 associates throughout the United States. www.limitedbrands.com
Nationwide Children's Hospital – One of the largest pediatric health care and research centers in the United States. Each year, Nationwide Children's Hospital delivers care for more than one million patients from around the nation and globe. The Hospital has 68 facilities extending throughout Ohio and beyond.
NetJets, Inc. – An affiliate of Berkshire Hathaway, NetJets operates one of the world's leading fractional aircraft ownership programs with a global fleet of over 700 private jets. NetJets and its affiliates also provide its clients with world-class pilots, aircraft maintenance, and other aircraft support services.
The New Albany Company - The New Albany Company is the Wexner family entity developing the Village of New Albany, Ohio, a planned community Northeast of Columbus.
OhioHealth Corporation - OhioHealth is the largest family of not-for-profit, faith-based hospitals and healthcare organizations serving patients in central Ohio since 1891. www.ohiohealth.com
Ohio National Financial Services - Ohio National Financial Services, through its affiliated insurance companies (The Ohio National Life Insurance Company and Ohio National Life Assurance Corporation), markets a variety of insurance and financial products in 47 states (all except Alaska, Hawaii and New York), the District of Columbia and Puerto Rico, with subsidiary operations in Santiago, Chile. Ohio National Financial Services products include: individual life insurance, individual disability income insurance, individual annuities, pension and retirement products and services and broker-dealer services. www.ohionatl.com
ORIX USA Corporation – Founded in 1981, ORIX USA is a diversified, international financial company that provides investment capital and asset management services to clients in the corporate, real estate, healthcare, and municipal finance sectors. Stonehenge Financial Holdings, Inc. - Stonehenge Financial Holdings, Inc. ("Stonehenge") creates private capital solutions for small and middle market businesses and real estate enterprises. Stonehenge currently manages over $1 billion in investment capital. Stonehenge Financial Holdings is located in Columbus, Ohio. Stonehenge Capital Corporation has offices in Baton Rouge, Louisiana, New York, New York, and Tampa, Florida. www.stonehengefinancial.com
Schottenstein Stores Corporation – Founded over 80 years ago, SSC is an established holding company with its roots in retail, wholesale, and manufacturing operations and is among the 250 largest private enterprises in the U.S.
XTO Energy Inc. – Founded in 1986 and a subsidiary of ExxonMobil Corporation since 2010, XTO is the nation's largest holder of natural gas reserves, and has one of the highest drilling success rates in the industry. XTO holds interest in approximately 40,000 producing oil and natural gas wells across the country.
Major Law Firms throughout Ohio - In our role as counsel to legal counsel, we represent major law firms throughout the Ohio in defense of professional liability actions.