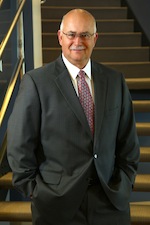 Steven W. Tigges
Partner
Steve Tigges is a Partner of Zeiger, Tigges & Little LLP. Mr. Tigges is a seasoned trial attorney who has practiced extensively in the areas of employment, health care, commercial contract, securities, construction, antitrust, and trademark litigation.
Professional Affiliations
Current: Zeiger, Tigges & Little LLP
Partner of litigation boutique firm concentrating in corporate litigation defense, professional liability, and media cases.
1988 – 1993: Squire, Sanders & Dempsey LLP (Columbus Office)
Litigation Partner in 80-lawyer Columbus office of international law firm.
1981 – 1988 : Murphy, Young & Smith LLP
Community and Professional Activities
Mr. Tigges is a member of the Columbus, Ohio State, Federal, and American Bar Associations.
Representative Experience
Like the other attorneys at Zeiger, Tigges & Little LLP, Mr. Tigges has extensive trial experience, with just some of those trials including:
McConnell v. Hunt

: Representation of Columbus community leaders in action to obtain NHL franchise for Columbus



The Dispatch Printing Company v. Recovery Limited Partnership

(United States District Court, Southern District of Ohio): Action for accounting of investments in gold exploration partnerships



Bank One Trust Company v. Scherer

(Franklin County Probate Court): Action for final trust accounting; defense of counterclaim for alleged breach of fiduciary duty



Blanchard Valley Health Association v. ProMedica Health System

(Hancock County Common Pleas Court, Lucas County Common Pleas Court): Actions for breach of hospital affiliation agreements and judicial dissolution



Berasi v. OhioHealth Corp.

(Franklin County Common Pleas Court): Defense of action for alleged wrongful revocation of medical staff privileges



City of Westerville v. Polaris Amphitheater Concerts, Inc.

(Delaware County Common Pleas Court): Defense of action for alleged violation of municipal noise ordinance



Newkirk v. Blue Cross Blue Shield

(Franklin County Common Pleas Court): Breach of insurance contract



Troutwein v. O'Brien

(Franklin County Common Pleas Court): Will contest



American Share Insurance v. California Commissioner of Corporations

(California Superior Court): Regulatory dispute, action for writ of mandamus



Horton Co. v. House

(Franklin County Common Pleas Court): Action to enforce noncompetition covenant



Kokosing Construction Co. v. BPS

(Franklin County Common Pleas Court): Breach of construction contract



Keiffer v. Sears Roebuck & Co.

(United States District Court, Southern District of Ohio): Sex discrimination



Advanced Drainage Systems v. Reich

(Defiance County Common Pleas Court): Action to enforce noncompetition covenant



Ashland Chemical v. GLS Corp.

(United States District Court, Southern District of Ohio): Corporate raiding of employees



Quissenberry v. Farrell

(Clark County Common Pleas Court): Medical malpractice action



Cunningham v. Sears Roebuck & Co

. (United States District Court, Southern District of Ohio): Race discrimination



Taylor v. Glimcher Co.

(Franklin County Common Pleas Court): Fraud and breach of contract



Fournier v. Rubbertec

(Franklin County Common Pleas Court): Corporate raiding of employees



Greff v. Meeks & Co.

(Franklin County Common Pleas Court): Action to set aside noncompetition covenant



Advanced Drainage Systems v. Lucas

(Lakeland County, Florida): Action to enforce noncompetition agreement



Blue Cross/Blue Shield of Central Ohio v. Blue Cross/Blue Shield Association

(United States District Court, Southern District of Ohio): Trademark infringement



Stanley Tool v. Cooper Industries

(United States District Court, D. Connecticut): Corporate acquisition; antitrust



Lancaster Glass v. GTE

(United States District Court, Southern District of Ohio): Breach of sales contract



General Electric v. Norton Co.

(Franklin County Common Pleas Court): Action to enforce noncompetition agreement



Acceleration Insurance Co. v. Montana Bankers

(United States District Court, D. Montana): Breach of contract; violation of Bank Holding Company Act



Hitt v. Tressler

(Franklin County Common Pleas Court): Election contest
Awards and Recognition
Ohio Super Lawyers
Best Lawyers in America
Education and Publications
J.D., The Ohio State University Moritz College of Law, 1981
Summa Cum Laude, Order of the Coif
Editor-in-Chief,The Ohio State Law Journal
B.S., The Ohio State University, 1975
Cum Laude
Author, "Into the Religious Thicket – Constitutional Limits on Civil Court Jurisdiction Over Ecclesiastical Disputes," 41 Ohio State Law Journal 475 (1986)


Author, "Federal Tuition Tax Credits and the Establishment Clause: A Constitutional Analysis," 28 Catholic Lawyer 35 (1983)


Author, "Return to the Twilight Zone – Federal Long-Arm Jurisdiction and Amenability to F.R.C.P. 4(f) Bulge Service of Process," 41 Ohio State Law Journal 685 (1980)


Mr. Tigges has spoken before several groups, including the Ohio Society of Certified Public Accountants and the Columbus Bar Association Litigation Practice Institute
Bar Admissions
Supreme Court of Ohio
United States Court of Appeals, Fourth, Sixth and Seventh Circuits
United States District Courts, Northern and Southern Districts of Ohio