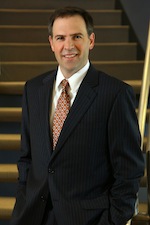 Stuart G. Parsell
Partner
Stuart Parsell is a Partner of Zeiger, Tigges & Little LLP. Mr. Parsell's practice focuses on complex commercial litigation with a concentration on professional malpractice defense, commercial contract disputes, corporate governance and fiduciary duties, trust law, class action defense, major insurance disputes and employment issues.
Professional Affiliations
Current: Zeiger, Tigges & Little LLP
Partner of litigation boutique firm concentrating in corporate litigation defense, professional liability, and media cases.
Clerk and Government Experience
1994 – 1995: Supreme Court of Ohio
Law Clerk to the Honorable J. Craig Wright, Justice, Ohio Supreme Court
Community and Professional Activities
Mr. Parsell is a member of the Ohio State and Columbus Bar Associations.
Representative Experience
Counsel in successful federal prosecution of action for breach of commercial loan agreement resulting in $10 million settlement for client.


Defense counsel in over twenty legal, accountant and other professional malpractice actions involving aggregate alleged damages of more than $125 million without any adverse judgments or verdicts. Majority of cases won on dispositive motion or resulted in net settlement gain for clients based on counterclaims asserted.


Trial co-counsel in litigation involving valuation of Nationwide Arena for tax purposes.


Successful complete defense of major Ohio insurance company in putative class actions.


Lead trial counsel in various federal and state actions successfully enforcing non-competition agreements.
Representative Cases
Bank One Trust Company, N.A. v. Ronald E. Scherer, Sr., et al., Case No. 430379C, Probate Court of Franklin County, Ohio. Trial counsel successfully defended Bank One Trust Company (now, JPMorgan Chase) against claims brought by trust beneficiaries seeking $47 million of compensatory damages and $40 million of punitive damages, alleging breach of trust and breach of fiduciary duty. Following eighteen-day trial, the court ruled JPMorgan Chase was not liable and entered judgment in its favor in December 2011. The decision was affirmed on appeal, 2012-Ohio-5302.
Ohio Neighborhood Finance, Inc. v. Rodney Scott, Case No. 2013-0103, Supreme Court of Ohio. Successful Ohio Supreme Court representation of Cash America International's subsidiary in case challenging alternative financing throughout Ohio. On June 11, 2014, obtained unanimous Supreme Court reversal of lower court decisions involving significant lender issue of first impression: Ohio's Short Term Loan Act does not preempt the Ohio Mortgage Loan Act in making short-term, single-installment loans. The Supreme Court's decision, 139 Ohio St.3d 536 (2014), impacts over $1 billion of single-installment loans made annually by the lending industry in Ohio.
The Dispatch Printing Co. v. National City Corp., Case No. 08CV-6506, Common Pleas Court of Franklin County, Ohio. Represented significant minority shareholder in multi-million dollar action for breach of fiduciary duty and related claims against publicly traded bank and its former directors for diluting stock value and voting power in connection with bank's $7 billion capital raise transaction in April 2008. Successfully defeated defendants' motions to dismiss and for summary judgment. Less than two weeks before the scheduled jury trial in 2012, we obtained a favorable, confidential settlement.
Nationwide Arena, LLC v. Franklin County Auditor, Case No. 04CV-253, Common Pleas Court of Franklin County, Ohio. Trial and appellate counsel for Nationwide Arena's ownership group in successful challenge to County Auditor's tax valuation of Nationwide Arena (home of the Columbus Blue Jackets), resulting in tax value reduction by more than $100 million. After appellate court set the value at $44 million, our client achieved a favorable, long-term settlement.
Bellman vs. American International Group, et al., Ohio Supreme Court, Case No. 05-2162. Successful trial and appellate defense of State Auto Insurance Companies in statewide putative class action seeking recovery of post-settlement interest on all claims settled on behalf of insureds throughout Ohio for fifteen-year time period. Case culminated in Ohio Supreme Court decision, 113 Ohio St.3d 323 (2007), holding that where an insurance company settles with a third party who was injured by an insured tortfeasor, the injured person must bring a claim for post-settlement interest against the tortfeasor, not the tortfeasor's insurance company.
The Housing Advocates, Inc. v. American Fire & Casualty Company, et al., Cuyahoga County Court of Appeals, Eighth Appellate District, Case Nos. 05-AP-086444 and 05-AP-087305. Successful trial and appellate defense of major property and casualty insurer in statewide actions brought by housing advocacy group alleging differences in insurance homeowners' rates in urban and rural areas throughout Ohio were the result of racially discriminatory insurance redlining. Plaintiffs had sought damages of $6 million.
Cleveland Bar Assn. v. CompManagement, Inc., 104 Ohio St.3d 168 (2004). Successful Ohio Supreme Court representation of more than 75 business associations representing in excess of 25,000 Ohio businesses employing 1,000,000 Ohioans, as Amici Curiae, in seminal Ohio case that determined that third party administrators practicing before the Industrial Commission are not engaged in the unauthorized practice of law.
Board of Trustees of the Tobacco Use Prevention and Control Foundation v. Ohio Treasurer of State, Case No. 08CV-5363, Common Pleas Court of Franklin County, Ohio. Trial and appellate counsel for national anti-smoking foundation in action to preclude State's diversion of $270 million out of Ohio Tobacco Endowment Fund created from nationwide tobacco settlement. After four-day trial, we obtained a permanent injunction ruling that the legislation seeking to liquidate the Endowment Fund was an unconstitutional impairment of vested trust rights. Decision, however, was reversed on appeal, ultimately by Ohio Supreme Court in 2010.
Mary Taylor, Superintendent of Ohio Department of Insurance v. Ernst & Young, LLP, et al., Case No. 03CV-4906, Common Pleas Court of Franklin County, Ohio. Successfully defended national law firm in legal malpractice action brought by Ohio Department of Insurance as liquidator for insolvent insurance company. Liquidator sought to hold law firm responsible for deepening of insurance company's insolvency, seeking damages in excess of $23 million. After we won summary judgment, our client entered into favorable confidential settlement in May 2013.
Craig S. Jones v. Red Mortgage Capital, LLC, et al., Case No. 11CV-8955,Common Pleas Court of Successful defense of $70 million claim against mortgage banking companies brought by six former executives for alleged breach of companies' incentive compensation plan. In April 2014, the court granted our clients' motion for summary judgment on Plaintiffs' $64 million claims for breach of contract. After the court granted our clients' second motion for summary judgment as to plaintiffs' promissory estoppel claim in August 2015, we obtained favorable confidential settlement for our clients, resulting in the dismissal of the lawsuit in February 2016.
Gregory M. Shepard v. State Automobile Mutual Insurance Company, Case No. IP01-1103-C-H/K, United States District Court, Southern District of Indiana. Successful summary judgment defense of insurance company in action seeking in excess of $25 million for breach of confidentiality agreement and breach of fiduciary duty against corporate directors, arising from merger of an Indiana auto insurance company into subsidiary of State Auto. Successfully argued and obtained affirmance of summary judgment from the U.S. Court of Appeals for the Seventh Circuit, 463 F.3d 742 (7th Cir. 2006).
San Allen, Inc., et al. v. Ohio Bureau of Workers' Compensation, Ohio Supreme Court. Appellate representation of businesses throughout Ohio, as Amici Curiae, in support of BWC's appeal of lower courts' class action rulings that the BWC charged up to $860 million of excessive, unlawful workers' compensation premium rates to more than 260,000 Ohio employers on a statewide basis from 2001 through 2008.
Jones v. Allen, Plan Administrator and Jones v. ORIX USA Corporation, U.S. District Court, Southern District of Ohio, Case Nos. 2:11-cv-380 and 2:14-cv-242.. Successful defense of international investment bank in ERISA lawsuits arising from the acquisition of the mortgage banking business of PNC Bank. Plaintiffs, five former bank executives, sought severance benefits, front pay, damages in excess of $30 million, and disgorgement of all profits generated from the acquisition. The court dismissed certain claims for severance benefits and ruled in March 2015 that our clients' counterclaim for breach of fiduciary duty and legal malpractice against the companies' former in-house counsel would be tried. In February 2016, both federal lawsuits were dismissed pursuant to a global, confidential settlement.
State Automobile Mutual Insurance Company v. James H. Magers, Franklin County Court of Common Pleas, Case No. 01CV-7785. Strategically out-maneuvered plaintiffs' class counsel for priority jurisdiction in local forum and, as a result, obtained voluntary dismissal of putative class action brought by all policyholders in Ohio who were charged for uninsured motorist or underinsured motorist ("UM/UIM") coverage for more than one vehicle in a household for a three-year period. The class had alleged duplicative UM/UIM coverage provided no added benefit.
Columbus Mortgage, Inc. v. Kevin Morton, Franklin County Common Pleas Court, Case No. 05CV-6618. Successful summary judgment and appellate defense of finance company in putative consumer class action for alleged violations of Ohio Consumer Sales Practices Act and the Ohio Retail Installment Sales Act. Established new Ohio precedent concerning conflicting provisions of the Ohio Mortgage Loan Act and the Retail Installment Sales Act, 2007 WL 1748142.
Education
J.D., University of Notre Dame Law School, 1994
Summa Cum Laude
Research and Projects Editor, Notre Dame Law Review
B.A., Oral Roberts University, 1991
Summa Cum Laude
Bar Admissions
Supreme Court of Ohio
United States Court of Appeals for the Sixth Circuit
United States District Courts, Northern and Southern District of Ohio
United States District Court, Eastern District of Michigan