Summer Associate Program
---
Overview
At Zeiger, Tigges & Little LLP our primary means of hiring new associates is through our summer associate program. We focus our recruiting efforts on finding individuals that fit the culture of our firm and complement our already strong team of lawyers. We are highly selective in our summer recruiting because we are looking for individuals who will join our firm upon their graduation.
We require the highest academic credentials, strong written and oral communication skills and the desire to make an immediate contribution to our litigation practice.
Our program seeks to provide each summer associate with practical insight into our practice. Each summer associate is considered a valued member of the firm and given challenging work and the opportunity to make an immediate contribution. We believe this experience is beneficial to the summer associate both in law school and later in practice. We also organize social events to allow the attorneys and their families to get to know our summer associates and to allow the summer associates to get to know the attorneys outside of the work setting.
Please take time to browse the additional information contained in this site to better familiarize yourself with our firm and our summer program. If you are interested in a strong summer associate experience, please look for us on your campus in the fall. If we do not recruit on your campus, please send an email, including your resume, with a brief statement of your desire to work at Zeiger, Tigges & Little LLP to: recruiting@litohio.com.
---
About Your Work
At Zeiger, Tigges & Little LLP our goal is to provide each summer associate with a well-rounded view of our fast paced litigation practice. We strive to involve our summer associates in all facets of litigation from the initiation of a complaint through settlement, trial and appeals. While the life-cycle of a case will not run its course during your summer, you will be involved in many cases, each at a different stage in the litigation process. This also gives you a chance to interact one-on-one with a partner or associate in our firm. Having personal involvement in many cases gives the summer associates a unique opportunity to personally work one on one and learn from each of the partners during a summer.
Assignments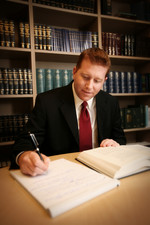 Each summer associate will be assigned projects by our partners and associates with a single partner managing the workflow to all summer associates. It is the role of this partner to ensure a proper balance between different types of assignments as well as to monitor workloads.
It is our goal to assign challenging projects that both test the knowledge you have gained through your legal education, and help you understand the typical everyday work of our practice. Assignments may require extensive research and writing projects while others, due to the nature of our practice, are shorter in duration focusing on specific legal issues. Through each of these different projects you will get a chance to further your analytical skills while making a contribution to the work of the firm and providing service to our clients.
In addition to assignments in the office, each summer associate will have the opportunity to attend client meetings, observe depositions, attend court hearings and status conferences. We also work with each summer associate to determine their interests in different aspects of the litigation life cycle to ensure that they get to take part in activities that interest them.
Evaluation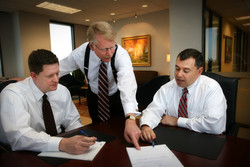 Feedback on legal work is critical to the development of legal skills. Therefore, after each project we give our summer associates feedback that will help improve analytical and writing skills. This feedback is either given in written form from the assigning attorney or in a face-to-face meeting. The amount of feedback given will usually be proportional to the overall magnitude of the assignment. However, each associate and partner is always willing to discuss or provide further feedback no matter how small the project.
Toward the end of the summer you will have a chance to sit down with the managing partner and the hiring partner to discuss overall performance for the summer. This end-of-summer feedback is meant to encompass input from all partners, associates and staff that you have interacted and worked with throughout your experience. It is our hope that the ongoing evaluation and feedback process will help you develop as a lawyer and better prepare you for the practice of law.
---
Social Activities
It is our goal to complement each summer associates work experience with a social experience that allows us to get to know you and you to know us. Because we are a smaller law firm, it is important for our culture that each summer associate is comfortable with our firm as we get to know them.
Before the beginning of each summer some of these events are already planned, however, some are purposely left open in order to get input from our incoming summer associate class.
Lunch with the Presiding Partner
Social Activities and the chance to get to know our attorneys start on the first day. On your starting day we schedule a casual lunch with John Zeiger. This is your chance to get to know John on a personal level, to ask questions about the upcoming summer opportunities, and to acquire an overall perspective of our firm.
Associate Lunches
As a prospective new associate we want you to get to know other associates in the firm and lunch is always a good social time. Most days the associates eat together and discuss a variety of topics. You will be welcome to join.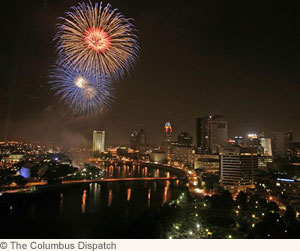 Red, White and Boom
Red, White and Boom is the largest fireworks display in the Midwest and takes place on the Columbus riverfront each July.
Our 35th and 36th floor offices in the Huntington Center provide a perfect vantage point for viewing the fireworks. Each year, we invite our summer associates, attorneys, staff, families and friends to come join in a party in the office. This provides a relaxed atmosphere to socialize with everyone related to our firm and watch the fireworks illuminate the night right outside our windows.
Charity Events
Each summer we participate in a charity event with our summer associates. Each year the event may change as opportunities arise, however we regularly participate the 10TV Family Fund Celebrity Golf Scramble.
Dinner with the Summer Associates
Each year one of our partners invites the attorneys and summer associates into their home for at least one party. For example, John Zeiger has regularly hosted a get together for the attorneys and summer associates at Keller Island, his summer home on Buckeye Lake. The party is highlighted by boating, jet skiing and as always, great food.
Other Spontaneous Outings
Based on the nature of our summer associate program and the friendships that inevitably develop, we are always open to planning additional events or just putting something together at the spur of the moment. Examples from prior years include:
Dinner and a Broadway Show
Columbus Clippers Games
Concerts
Golf Outings
Our summer social program is focused on having fun, but the true goal is to get to know our summer associates and help them understand the culture at Zeiger, Tigges & Little LLP. Our summer associates appreciate the opportunity to be able to spend time with our accomplished attorneys and interact with them outside of the office.
---
Compensation
Part of introducing a law student and prospective associate to our summer associate program is our compensation plan. While we may be a smaller firm, we are competitive in the salary we provide to summer associates. This is due to the caliber of our practice and our desire to hire the very best candidates we believe will have the most positive impact on our practice. To that end, we pay each summer associate as if they were in full-time practice. Our summer salary is competitive with the top firms in Columbus. We continue to be conscious of the marketplace and regularly evaluate compensation to ensure that we meet what the market demands.
---
The Hiring Process
In the fall of each year we participate in the on-campus interviewing programs at regional law schools. Please check with your professional development office to determine whether we will be interviewing on-campus or participating in a resume collection.
Based upon our needs and the resumes we receive, we carefully screen each applicant to determine whether their credentials and interests match our needs. Those who do are invited to interview with us.
After the initial interview on-campus or by phone, we discuss and evaluate each interview and each interviewee with care. Some of those who interview will be invited to our offices to meet with our partners and associates. Typically this notification will come 1-2 weeks after the initial interview.
Second round interviews are conducted at our office in the Huntington Center and you will have the opportunity to meet and speak with a number of attorneys. You will also have a chance to take a tour of our offices and meet our professional staff. After these interviews our partners give their input to the hiring committee and offers are extended usually within 2 weeks of the interview.
---
Testimonials
Scott N. Schaeffer, Ohio State Moritz College of Law, Summer '04 and '05
"I have had the pleasure of working at Zeiger, Tigges & Little LLP for 2 summers. My experience has been nothing short of spectacular. I remember when I received my offer of employment for my first summer, I took it right away and cancelled other interviews.
From the first day at ZTL, I felt like it was a place I could see myself practicing. I always knew the work I was doing was important and was a piece of the overall puzzle. Seeing my research, document review or other work product incorporated into our final work product was very rewarding.
The lawyers that I worked with were outstanding. Doors are always open and everyone from associates to partners were willing to hear a concern or discuss a legal theory. They also made sure that I saw many aspects of the everyday practice of law. One day I was in the judge's chambers observing the settlement of a case and the next I was in the Ohio Supreme Court watching one of our attorneys present oral argument.
In addition, I felt like I had all the resources that I needed to get projects done right. The staff, paralegals and secretaries were helpful and ready to assist with any problem or need. The legal library was always available and our location permitted me to go to the Ohio Supreme Court library whenever I needed to do extended research.
The people truly made the experience complete. Because ZTL is a smaller firm, I got to know all of the attorneys and staff very well over my two summers. It was also great to be in an environment where the people I work with want to get to know me beyond the legal work.
The highlight though was the variety of work I received. One day I was working on a case about sunken treasure, and the next it was ensuring a local news channel's right to film court proceedings. The ever changing nature of litigation and the work that ZTL does make the job a phenomenal experience.
I look forward to returning to ZTL after graduating law school."